In particular, many companies are actively using Web AR technology for their own promotion.
Now we can say that such technology is becoming one of the components of the brand marketing promotion. Before starting to use them, it is necessary to understand what kinds of software are available and what opportunities they provide to users. 
There are many solutions that enable users to empower their web apps with AR capabilities, but the most popular include Vuforia, ARKit, Banuba Web AR and others. In this article, we are going to look at the most popular solutions and try to understand the advantages and disadvantages of each software and how they can be useful for your business.
Augmented Reality Possibilities: Virtual Try On and Much More
Web-based Augmented Reality attracts the attention of many modern Internet users. In simple words, augmented reality technology is based on the following points:
some photo or video is taken ( it can be made beforehand or online);

a three-dimensional model is superimposed over this image;

as a result, it's possible to see reality in an unusual or extended format.
There are quite a few examples of augmented reality, because now it is widely used in almost all aspects of life. Brands use it in absolutely different segments: the sale of various goods and the promotion of services. 
For example, augmented reality can often be seen on clothing store websites. There, you can make a virtual try on different clothes, shoes or accessories. As a result, sales increase, because potential customers can imagine how they will look in a particular thing. An alternative method is used when selling cosmetics. In addition, augmented reality opportunities are often used by interior designers, stores specializing in the sale of furniture. 
This is not a complete list. As practice shows, augmented reality is now actively used in almost all kinds of activities, including construction, education, and healthcare. The only question is to intelligently select the software and understand how to launch a project in accordance with the needs of the brand and the direction of its activities.
Choosing Web AR SDK: top of the most popular solutions
There are different variants of Web AR SDKs that can be used to implement creative projects. They provide all the possibilities for the realization of the ideas. Moreover, a big advantage is that you do not need to involve a large staff of developers to launch your own augmented reality extension. Next, we will look at the most popular software and try to determine the advantages of each of them.
Banuba Web AR
Today, Banuba Web AR can safely be called a universal solution, because the capabilities of the software can be used for development as well as for further testing. It has all the tools for working with augmented reality. For example, the features of the program allow brands to:
visualize objects in 3D-format;

change the colors and shades of the image;

apply sound effects;

combine the image with GIF-files.
The software works on the basis of artificial intelligence, which is an undeniable advantage. It provides face recognition technology that "reads" portraits and can make changes to them. Face and body segmentation, motion tracking are available with Banuba.
Based on the capabilities provided by the developers of the software, it is possible to create your own applications, which has already been successfully used by the creators of other solutions. At the same time, the software is adapted for use on any device, no additional adaptation is needed. Different variants of ready-made templates and solutions are provided here which can help you easily implement your own ideas.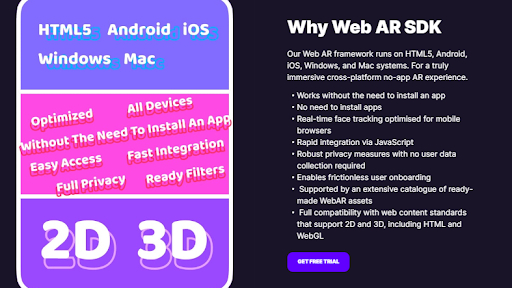 Vuforia
This is a project of quite a large Qualcomm company, which, in fact, became known for the active implementation of new technological ideas. The features that have given it great popularity among developers are the following:
Versatility. It interacts with almost all operating systems, including mobile (iOS, Android).

Using the capabilities of the software, there is a high-precision fixation of objects detected on the screen of a smartphone or computer with the help of a camera.

You can easily superimpose a 3D object over the image. In addition, it is possible to combine the picture with audio or video files.
ARKit
Another software that was originally designed to create solutions with augmented reality capabilities. This tool is presented by Apple, so it was adapted primarily for the owners of "apple" devices, among which it quickly gained popularity.
Based on the features of this software, many apps have already been created for "apple" smartphones. For example, there are convenient services for virtual distance measurement, modeling objects and creating design projects. Despite the fact that the software allows you to create universal extensions, it is most popular among fans of the brand's products.
AR.js
This extension is slightly different from those presented earlier, because the developers themselves position it primarily as a cross-platform library. At the same time, it allows you to work in two different directions:
implementation of AR capabilities based on markers;

working in the spatial domain.
The items tracking option works well here, and the repository base itself is constantly updated. Therefore, the tool is often used by developers as a database of necessary information and files.
ARCore
This software is adapted exclusively for owners of smartphones and tablets running on Android. Accordingly, it has become the most popular among them. It allows users to successfully use different versions of software that includes interaction with augmented reality objects. Without this tool, extensions simply will not work. For example, such extensions include AR Stickers: Foodmoji and many others. Developers often use it to test their projects.
Conclusion
After taking a look at different solutions and testing them, we can conclude that there are now a large number of tools adapted specifically for augmented reality. Using their capabilities, it becomes possible to implement different ideas and launch your own programs and extensions. 
Based on this, it can be summarized that any brand can easily try to implement such a project. Augmented reality has long been used in its projects not only by representatives of large companies, but also by ordinary entrepreneurs. This boosts sales and brand awareness.